Below is an example of how one church introduced and discerned the call to Restorative Actions.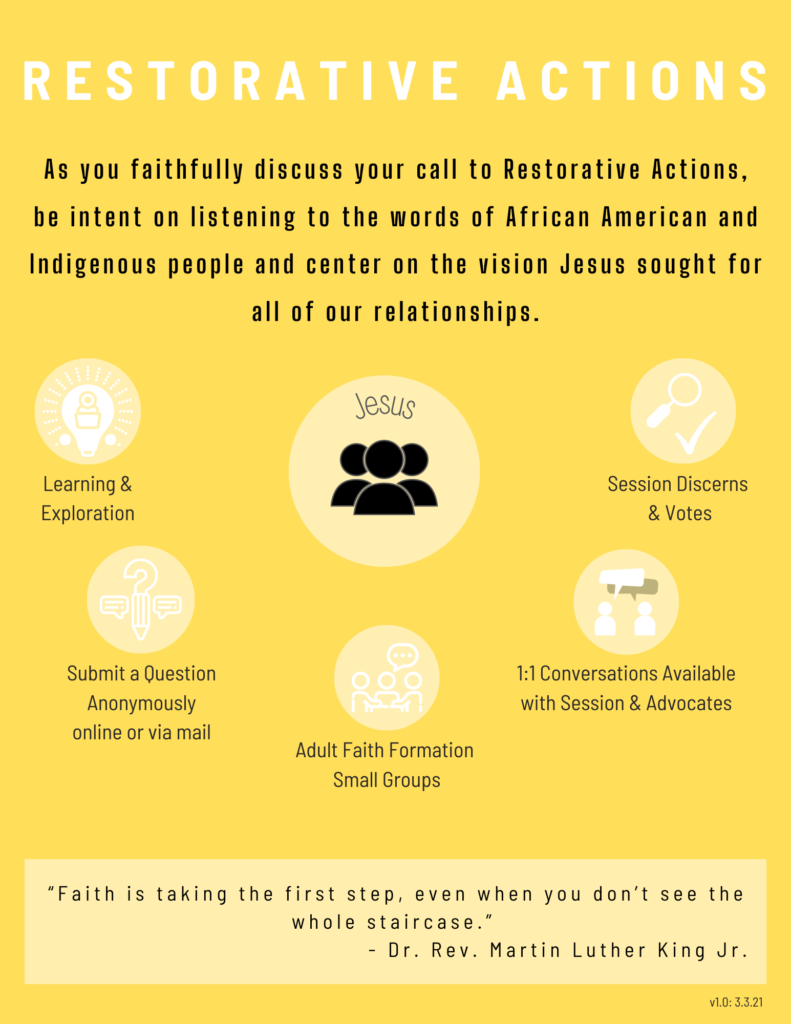 Learning & Exploration
Engage a team of people who are passionate about restorative actions, to explore what it could mean for your congregation.

Center on what Jesus expects from us in our relationships with others.

Listen to voices of African Americans & Indigenous people.

Seek to understand the history of oppression in the U.S. and the churches' complicity.
Anonymous Questions
Like many conversations about money, this may be uncomfortable for some or many. 

Create an option for parishioners to submit questions anonymously and address those questions in live learning sessions and with written feedback.
Small Group Conversations
When meetings and learning sessions have great attendance, break into small groups of 4-5.

Take notes of affirmations, concerns, and questions and share with advocates to ensure follow-up.
1:1 Conversations
Offer one on one conversations to Ruling Elders and parishioners for questions, concerns, and affirmations.
Session Votes
The Session made the decision after a number of meetings and dedicated time of discernment.

Breaking into smaller groups for initial discussions was important to ensure all voices were heard.
Have Faith
Surrendering is not easy when we do not have absolute clarity of the outcome, we must have faith.
V1.0: 3.3.21
Have questions?  eMail us at: